Community Page
Santa Paws Resident Event at Bar K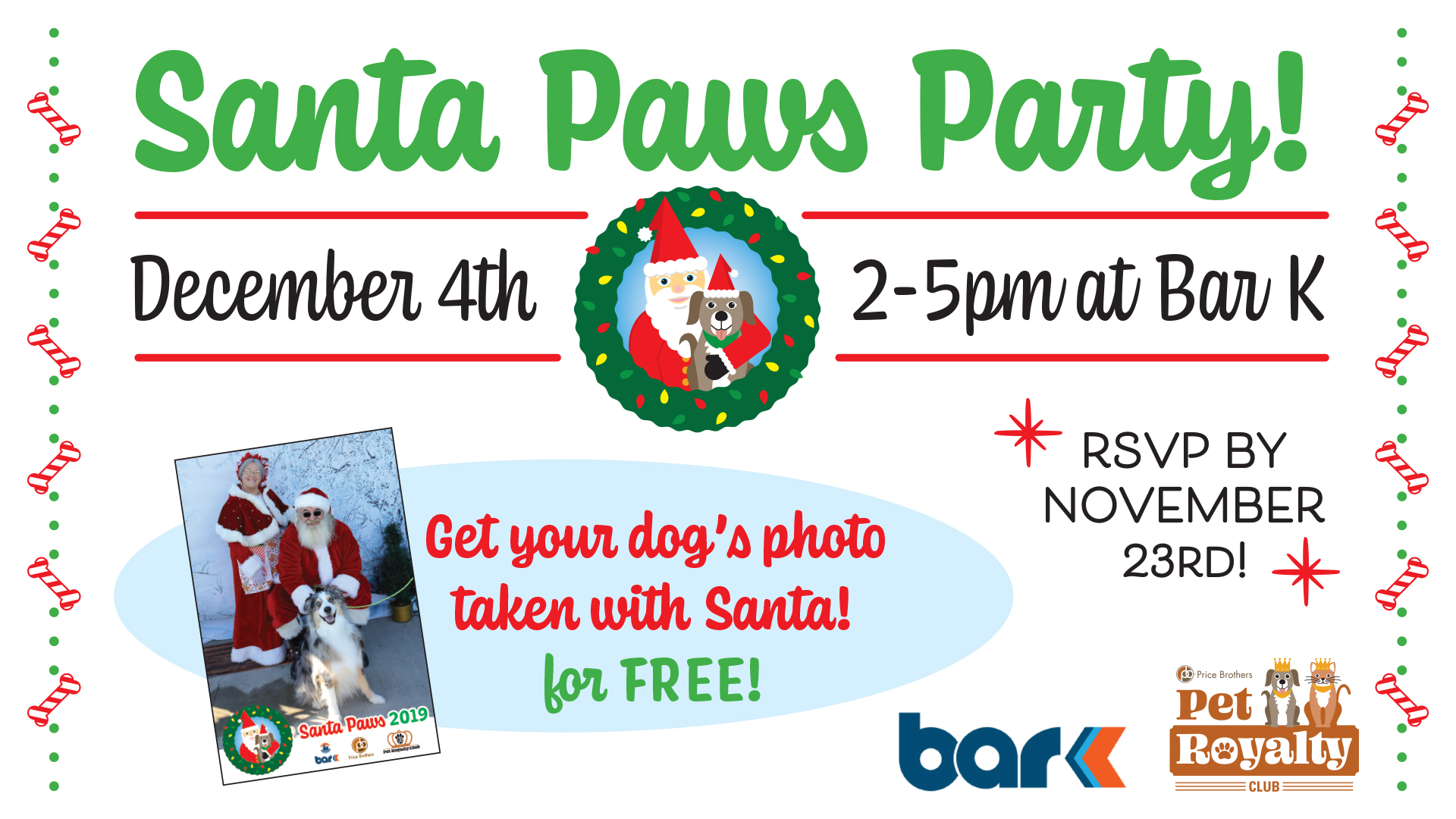 You better watch out, you better not cry, you better not pout, we're telling you why: Santa Paws is coming to town on December 4th!
He's Dachshund through the snow, and making a stop at Bar K!
All Price Brothers residents and their four-legged good boys and girls are invited to get their picture taken with Santa Claus at Bar K Dog Bar on
December 4th from 2-5pm
.
This is an all-ages free event for any Kansas City-area Price Brothers residents that are on Santa's 'Nice" list,
regardless of if you have a dog or not.
This event will include:
Free admission for Price Brothers residents and their dogs
Free professional photo with Santa Claus
Free printed and digital copy of your photo
Free doggie goodies
Free appetizers and discounted drink specials
Please RSVP to
https://forms.gle/VuLZXuVm9dRgcpEh8
by
November 23
so we know how many will be Barkin' Around the Christmas Tree with us.
From all of us at Price Brothers, we wish you a very Happy Paw-liday season and may your days be furry and bright!
Fitness Class Schedule
Classes are limited to 8 people. Please RSVP with Annalie directly to secure a spot.
Tel: 480-861-1169
[email protected]

Monday-
Flexibility 9:00am-10:00am
This class will focus on flexibility and range of motion. This will help injury prevention.
Boot Camp at 6 p.m-7 pm
We will focus on different types of cardio and stretching.
Tuesday-
9am-10:00am Fitness Silvers Strength and Conditioning at 9 a.m. The class will focus on safe resistance training, muscle building and balance.
Wednesday-
6-7pm Fit Core Core conditioning at 6 p.m.
Thursday-
Stay Strong at 9 am to 10
Stay Strong is a class similar to Silvers Strength with added cardio.
Saturday-
Circuit Training at 9 a.m.
Classes will focus on core strength and resistance training using machines in a circuit format.
(New Residents Only): Every last Saturday of the Month at 11:45am – 12:45pm Annalie will be giving a 60-minute orientation class to our new residents. The class will focus on how to operate and utilize the gym equipment.
TO GO Smoothie of the Month: Each month Annalie will create a healthy smoothie recipe to be prepared for our resident to enjoy. This month on July 20th at 3pm – 4pm (or while supply lasts) Stop by the clubhouse and pick up a smoothie and a copy of the recipe.
Flexibility: This class will focus on flexibility and range of motion. Injury Prevention
Boot Camp: HIIT Strength and Conditioning. Good for intermediate to advanced level of fitness. All mediums of fitness equipment used.
Silvers Strength: Low impact. Focus on balance, core and strength training. Suitable for all levels. Using resistance bands and weights.
Fit Core: Improving core strength. Intermediate to advanced level.
Stay Strong: Focus on balance, core and strength training with added short bursts of higher intensity. All fitness levels.
Circuit: Suitable for most fitness levels. Focusing on strength training, core and cardio in a timed format. All fitness equipment used.